There's a lot going on in
Dexter: New Blood
, from the return of Harrison Morgan to the investigation into his father, the serial killer killing killer
Dexter
Morgan. But one thing that hasn't happened (yet) is a mention of
Astor and Cody
Bennett, Dexter Morgan's stepchildren from his marriage to the late Rita Bennett.
It was said that there would be several character returns on Dexter: New Blood, but what about Astor and Cody? Will Astor and Cody be in Dexter: New Blood? Here's why you haven't seen them.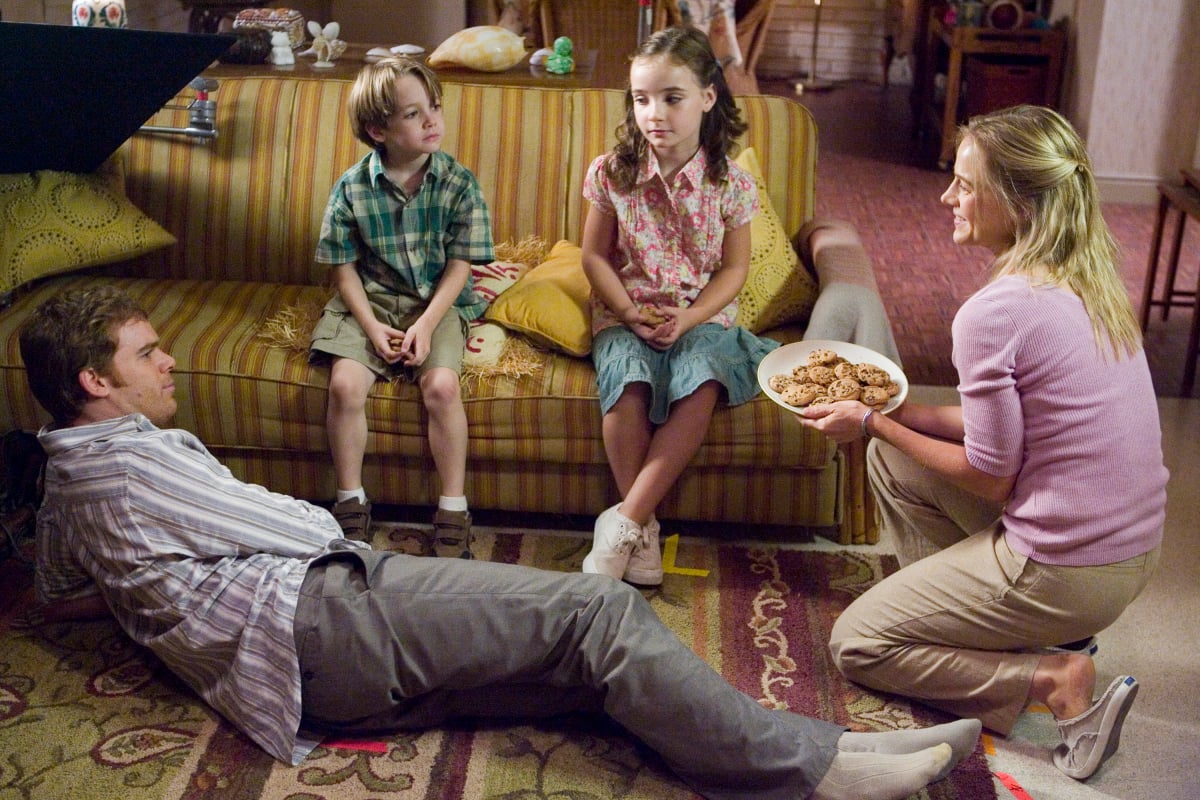 'Dexter: New Blood' is set in a new world
When Dexter: New Blood begins, it's been almost a decade since Dexter faked his death and fled Miami, after leaving behind Harrison and Hannah McKay. He relocated to the fictional small town of Iron Lake, New York, where he created a new life as Jim Lindsay, complete with a new job and a girlfriend. But Dexter's true identity begins to unravel when Harrison suddenly shows up.
Harrison explains that he bounced around in foster care after Hannah died of cancer before deciding to track Dexter down when he found a letter indicating he'd survived Hurricane Laura. Some viewers wondered why he wasn't placed with his siblings, perhaps forgetting that they were living with their paternal grandparents following Rita's death. The siblings last appeared in Dexter Season 7 when they briefly visited Dexter.
RELATED: 'Dexter': Rita's Death Was a Total Shock to Julie Benz
Will Astor and Cody appear on the revival?
Showrunner Clyde Phillips confirmed Astor and Cody won't appear in Dexter: New Blood, but he imagines they are living happily.
"They're basically off in the world living their lives," he told TV's Top Five. "They did not come up but [Christina Robinson (Astor) and Preston Bailey (Cody)] were at the premiere [in November]. Of course, I didn't recognize them because they're in their late teens now or 20 or however old they are. It was amazing to see them, but it just never came up."
Phillips explained that there was only so much that could be fit into New Blood without it feeling crammed.
"We have enough story," he continued. "We've set out to tell a big story, and we did. There wasn't room for that or interest in that. I think our fans are very loyal and once they join the party, they're going to stay with us. Then we want to attract a whole new group of fans that were too young to watch the show or weren't interested in the show or didn't have Showtime or whatever. We hope to bring in a lot of people, a lot of new viewers."
Dexter: New Blood has indeed turned out to be a hit, so much so that fans are practically begging for another season. While it's supposed to be a limited series, Phillips has not ruled out the possibility of a Dexter: New Blood Season 2.
"Let me say this to answer that: Never say never," he told TV's Top Five. "I could've said yes or no. I'm saying never say never. Anything can happen and I'm not going to commit to the fact that this is the absolute end of the franchise. I think that's a pretty revealing answer."
The series will wrap on Jan. 9
Dexter: New Blood will conclude its 10-episode run on Sunday, Jan. 9. While the cast and crew have stayed mum on the details, Phillips said the episode is his best work.
"It's going to be surprising, inevitable and it's going to blow up the Internet," he told TVLine. 
"It is, I personally think, the best thing I've written," he continued. "Our director Marcos Siega, who could not be more experienced and a better friend of the show, thinks it's the best thing he's ever directed. I haven't seen it yet, by the way. I only saw it get shot. We're editing Episodes 7 and 8 right now, so I haven't seen 10 yet. I can't wait, to tell you the truth."
Watch the show at 9 p.m. ET on Sundays on Showtime.
RELATED: 'Dexter: New Blood' Season 2? Showtime's President Comments on the Possibility
Read the original article from The Cheat Sheet